This week over at My Sheri Crafts its all about Spring time with flowers and celebrating MOM!! This particular flower is for my mom, who by the way is the BEST MOM IN THE WHOLE WORLD!! Her favorite color is yellow so definitely had to incorporate it in the card. I am more than blessed to have her still in my life and am every day amazed at how much she did and still does for all of us. Her unconditional love is only one of the things that makes her the best! She is very talented in her sewing, etc. she says that she doesn't know where i got the bug for scrapbooking, but is always impressed with what I come up with each time I show her my creations.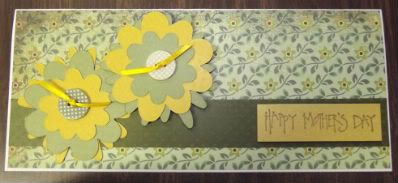 Flowers are made with a sizzix die cut with buttons from Walmart.
Sentiment from HL stamp set.
Backing paper comes from single sheets at Archivers.
It is very simple but thats ok she will love it!!! :)